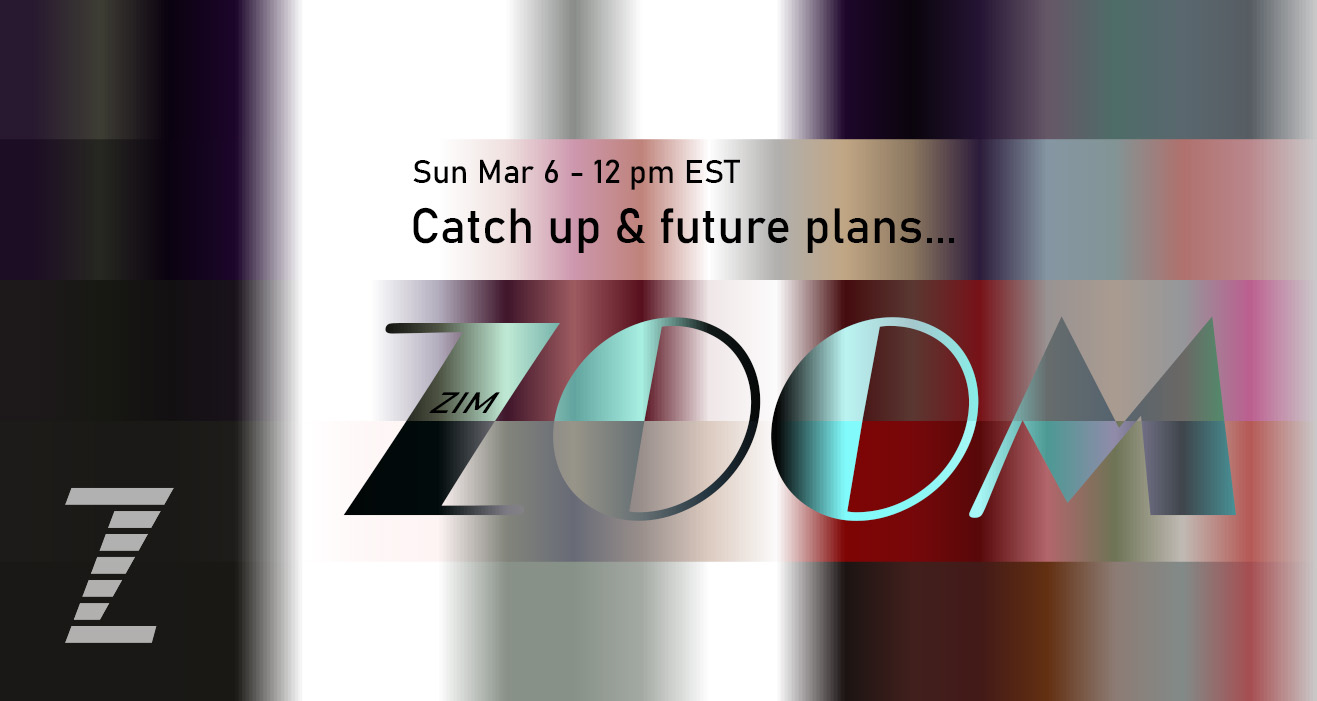 Dr Abstract is inviting you to a scheduled Zoom meeting.

Topic: ZIM ZOOM - Future Reveal
Time: Sun, Mar 6, 2022 12:00 PM 
Zone: Eastern Time (US and Canada)

Join Zoom Meeting

Click to join ZIM ZOOM meet!

Meeting ID: 643 829 3197
Passcode: zim


ADD YOUR ZIM PROJECTS AS YOUR BACKGROUND SCREEN!
See examples!
And see you on ZOOM!
---
ARCHIVES
    
Dr Abstract is inviting you to a scheduled Zoom meeting.

Topic: ZIM ZOOM - Autumn Chat
Time: Wed, Sep 29, 2021 10:00 AM 
Zone: Eastern Time (US and Canada)

    
Dr Abstract is inviting you to a scheduled Zoom meeting.

Topic: ZIM ZOOM - Next Version Announcement
Time: Thu, Jul 29, 2021 12:00 PM 
Zone: Eastern Time (US and Canada)

    
Dr Abstract is inviting you to a scheduled Zoom meeting.

Topic: ZIM ZOOM - ZIM Cat 04 Launch
Time: Wed, Apr 7, 2021 11:00 AM 
Zone: Eastern Time (US and Canada)

    
Dr Abstract is inviting you to a scheduled Zoom meeting.

Topic: ZIM ZOOM - Multiuser
Time: Mar 4, 2021 11:00 AM
Zone: Eastern Time (US and Canada)

    
Dr Abstract is inviting you to a scheduled Zoom meeting.

Topic: ZIM CAT 03 Launch
Time: Jan 20, 2021 03:00 PM 
Zone: Eastern Time (US and Canada)